Triumphant Return of Hudson Valley Dance Festival Breaks Fundraising Record
Two sold-out audiences reserved their place among the idyllic scenery and inspiring dance for the in-person return of Hudson Valley Dance Festival on October 8, 2022, which raised a record-breaking $161,567.
Brilliant displays of contemporary, hip-hop, modern and tap dance styles lit up and lifted the festival's first in-person edition since 2019, which had been on hiatus due to the coronavirus pandemic. The 2022 edition included world premieres by choreographers Jonathan Lee and Skyla Schreter and festival debuts of Lee, Schreter, Khadijah Siferllah and Limón Dance Company.
A thrilling trio from Dorrance Dance opened the show with an improvised and joyful tradition of tap dance with it's your choice. Aaron Marcellus started the piece with a soul-stirring a capella vocal performance, looping his voice until the audience was facing a wall of resonant sound. Marcellus then joined Dorrance Dance founder and artistic director Michelle Dorrance and Byron Tittle in a procession of percussive sound as the three dancers tapped and clapped through the delightful number.
Bronx-born choreographer and composer Abdullatif shared his experimental pas de deux B•W•B | The Bach•Work•Ballets_Part 1. Dancers Holly Curran and Amar Ramasar shared expressive contemporary ballet movements to classical music by Johann Sebastian Bach in sleek black costumes created by Stevie Crowneblack. The performance was further enhanced when choreographer Abdullatif took to the stage and provided improvised vocalizations to the classical music track.
Khadijah Siferllah of the Ladies of Hip-Hop Dance Collective engaged the audience in an excerpt from her thought-provoking choreopoem SpeakMyMind. The stream-of-consciousness, spoken-word poem explored an uncensored mindstate of Black women as Siferllah's silhouette articulated the exhaustion and persistence that often accompanies social awareness. In free-flowing costume by Sarah Dixey, Siferllah connected hip-hop movement to the broader tradition of African dance with an artistically understated performance.
Broadway Bares associate director and choreographer Jonathan Lee made his Hudson Valley Dance Festival debut with the world premiere of his Adam and Eve-inspired hip-hop piece Before the Fall. A body-pumping quartet of dancers Christian Galvis, Yancy Greene, Giuseppe Little and Yusaku Komori performed a hard-hitting sequence that playfully engaged with traditionally masculine moves. The high energy dynamics made a turn for the feminine as "only girl in the world" Sarah Botero-Ramirez emerged in a gleaming crystal-embellished bodysuit (also designed by Dixey). Botero-Ramirez took center stage and enchanted the four male dancers into a sport of hip-swaying and adoration.
Limón Dance Company honored its 75th anniversary with founder José Limón's 1942 solo Chaconne. Set to a performance of Bach's "Partita No. 2 in D minor" played live by violinist Johnny Gandelsman, the number embodied expressive precision and patient gracefulness under the beautiful movement of dancer Lauren Twomley.
Hudson Valley resident and former San Francisco Ballet corps de ballet member Skyla Schreter presented the world premiere of her contemporary piece for your consideration. A pulsing, synth-heavy musical accompaniment scored dancers James Anthony, Piper Dye, Cristina Moya-Palacios, Hannah Straney as they showcased the power of the collective in the face of adversity. Red ensembles with metallic embellishments by designer Lauren Carmen complimented the dynamic musicality of the piece.
Stephen Petronio Company made its Hudson Valley Dance Festival return with two ravishing performances. The first, Love Me Tender, an excerpt from The King is Dead, featured dancer Nicholas Sciscionein a hot-pink fetish mask and matching chest harness as he performed a sweet, cartoon valentine for a lover that swings between sarcasm and vulnerability.
Choreographer Stephen Petronio wrapped the festival with his second presentation, an excerpt from Bloom. The masterful work embodied the hopeful abandon of youth, a splendid and unexpected juxtaposition with the company's technical and controlled movement. In light-colored costumes by Rachel Roy, an ensemble of seven dancers remained poised even in dizzying and dazzling sequences of spins and leaps. Dancers Larissa Asebedo, Liviya England, Michaela Esteban, Kris Lee, Jaqlin Medlock, Tess Montoya and Ryan Pliss brought to life music by Rufus Wainwright with lyrics from the poetry of Emily Dickinson and Walt Whitman.
Dancers reenacted poses from iconic American imagery in an excerpt from Adam H. Weinert's ANTHEM. Dorothea Lange's Migrant Mother and Grant Wood's American Gothic were among the works recreated by dancers Sloane Burling, Cynthia Koppe, Hannah Littman and Brandon Washington in all-black costumes by designer Marine Penvern; a triumphant score of horns accompanied their movement. The celebrated Hudson Valley local choreographer created an inventive piece where lanterns held by the dancers cast shadows upstage and participated with the dancers in the experimental contemporary number.
In celebration of the long-awaited return of the festival and its generous supporters, Broadway Cares/Equity Fights AIDS provided additional discretionary grants of $2,500 to each of the 14 Hudson Valley organizations that are part of Broadway Cares' National Grants Program.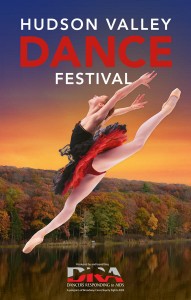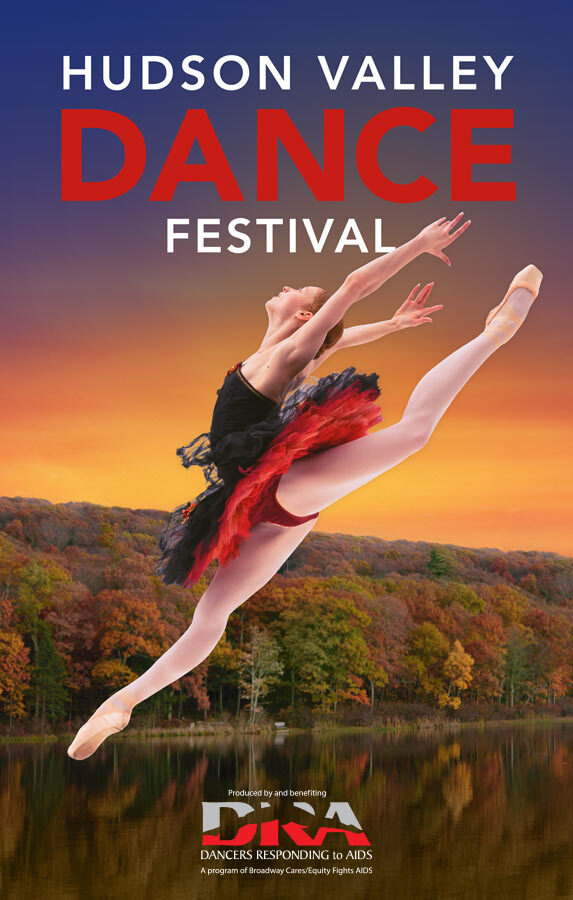 Those 14 organizations are: Albany Damien Center and Alliance for Positive Health in Albany; Animalkind, Columbia-Greene Community Foundation, Columbia County Recovery Kitchen and Hudson Valley SPCA in Hudson; Matthew 25 Food Pantry and Community Hospice in Catskill; Hudson Valley Community Services in Hawthorne; Hudson Valley LGBTQ Community Center in Kingston; Rock Steady Farm in Millerton; Roe Jan Food Pantry in Hillsdale; TOUCH (Together Our Unity Can Heal) in Congers and Troy Area United Ministries in Troy.
Hudson Valley Dance Festival began in 2013 as a single performance at Historic Catskill Point. It has since grown into an annual audience favorite for the Hudson Valley region, raising nearly $1.2 million through nine iterations. Hudson Valley Dance Festival is made possible, in part, by support from corporate sponsor The New York Times.
Photos by David Fried and Rebecca Michelson
This Year's Program
Hudson Valley Dance Festival 2022 Committee
Leadership Supporters
Back to Top