Dancers Responding to AIDS
A Program of Broadway Cares/Equity Fights AIDS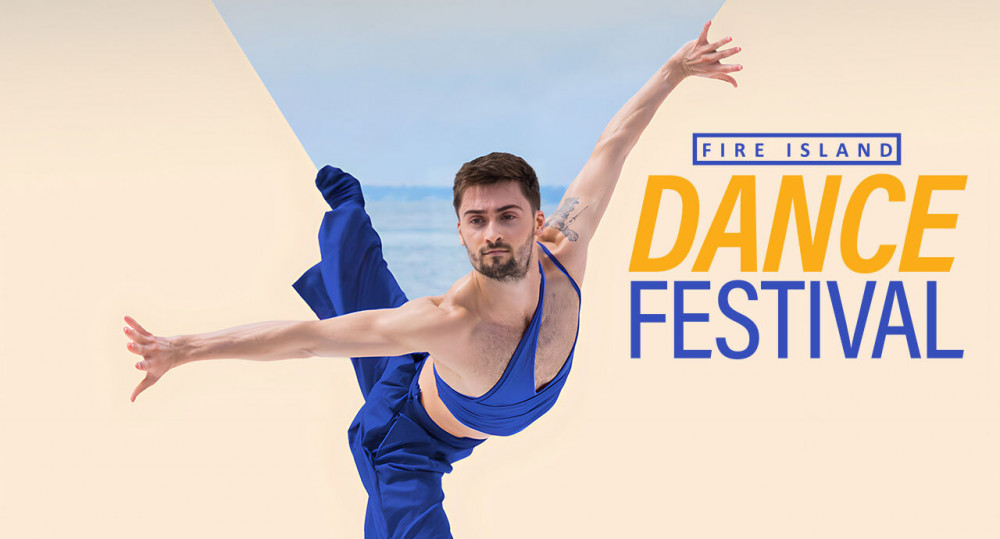 Fire Island Dance Festival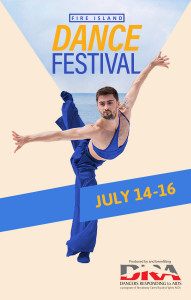 Fire Island Dance Festival
July 14-16
Fire Island Pines, Fire Island, NY
With world-class dance at the fore and the free-flowing waters of the Great South Bay as its backdrop, Fire Island Dance Festival, the longest-running charitable event of the Fire Island summer, will make its annual return on July 14-16.
The picturesque, three-performance weekend of established and emerging choreographers and companies will once again return to its stunning waterfront stage in Fire Island Pines.
The Fire Island Dance Festival weekend is composed of an opening performance at 5 pm on Saturday, July 15, a Leadership Sunset Performance at 7 pm on Saturday, July 15, and a closing performance at 5 pm on Sunday, July 16.


Tickets are also available in person on weekends from 10 am-1 pm in the Fire Island Pines harbor.
Joining the lineup are:
Critically acclaimed musician serpentwithfeet, weaving his existing discography with new music in an excerpt from "Heart of Brick," an ensemble number created in collaboration with The Joyce Theater. The piece captures the multi-generational spirit of the Black queer community and features genre-defying dance from three-time Princess Grace Award winner and A Strange Loop choreographer Raja Feather Kelly

Celebrated New York City Ballet principal and Bessie award winner Taylor Stanley, who has been described by The New York Times as "a God for our time," performing an original work by New York City Ballet dancer Alec Knight

Veteran choreographer of Broadway's The Lion King, Ray Mercer, returns to Fire Island Dance Festival with a celebratory contemporary ensemble number

Former dancer with the San Francisco Ballet and choreographer Skyla Schreter, sharing a new duet featuring New York City Ballet soloist Ashley Hod and former Philadelphia Ballet member Craig Wasserman

Dancer and humanitarian Ahmad Joudeh, who fled Syria with the help of the Dutch National Ballet, sharing "Layl (Night)" an emotionally compelling performance inspired by his experiences as a stateless refugee

Broadway Bares associate director and choreographer Jonathan Lee, making his Fire Island Dance Festival debut with the world premiere of a western-tinged upbeat number

Choreographer Paul McGill, debuting a new, ethereal ensemble number set to Claude Debussy's "Sunken Cathedral" and featuring So You Think You Can Dance winner Gaby Diaz and former San Francisco Ballet principal Benjamin Freemantle

Philadelphia Ballet Resident Choreographer Juliano Nunes, presenting unconventional pas de deux "Dying Swan" featuring Boston Ballet principal Derek Dunn and Bavarian State Ballet first soloist Shale Wagman

The return of Parsons Dance, presenting an excerpt of "Whirlaway," a feel-good ensemble number from choreographer David Parsons featuring the music of New Orleans soul artist Allen Toussaint
Performers are subject to change.
Joining the lineup as hosts are the incomparable stage and screen star Alan Cumming and journalist Ari Shapiro of NPR's All Things Considered.
Cumming is a Tony and Olivier Award-winning actor, producer and longtime member of the Broadway Cares/Equity Fights AIDS Board of Trustees. He has accumulated stage and screen credits from Shakespeare to art house, cabaret and blockbusters. He is the author of a New York Times bestselling memoir and co-owns his eponymous cabaret bar, Club Cumming.
Shapiro, a decorated former White House correspondent and occasional singer, has co-hosted NPR's award-winning flagship news program since 2015.
Together, Cumming and Shapiro recently premiered Och and Oy! A Considered Cabaret, a collection of songs and stories compiled from their humorously disparate lives and personalities.
Leadership Supporters can begin their weekend experience with Friday night's Leadership Event at Whyte Hall. The exclusive celebration will include cocktails and a performance by New York City's Masterz at Work Dance Family, presented in association with Works & Process at the Guggenheim Museum. The company, rooted in street and social dance and led by ballroom legend Courtney Washington Balenciaga, will kick off the festival with a fusion of jazz, hip-hop, house, African, voguing and contemporary dance styles. The Leadership Event is generously supported by Paul Austin and Dalip Girdhar.
Leadership Supporters also enjoy highly coveted tickets to the sunset performance on Saturday or priority seating at either 5 pm performance, as well as recognition in the harbor and throughout the Pines.
Leadership tickets start at $375. Individual tickets for the 5 pm performances are $175.
A hassle-free daytrip package is available, which features round-trip transportation from New York City or Teaneck, NJ, a champagne luncheon and tickets to the 5 pm performance on Sunday, July 16. A Sunday VIP option, which includes the champagne luncheon and tickets to the Sunday show without transportation, also is available. The daytrip package is $350; the Sunday VIP option is $275.
If you can't attend but would like to support Fire Island Dance Festival, donate now.
Since its debut in 1995, Fire Island Dance Festival has raised more than $7.7 million to help provide lifesaving medication, nutritious meals, counseling and emergency financial assistance to those in need in all 50 states, Washington D.C., and Puerto Rico.
Fire Island Dance Festival is generously supported by corporate sponsors The New York Times and United Airlines, the official airline of Broadway Cares, with additional support from The Charles and Lucille King Family Foundation in memory of Diana King.
Watch highlights from the 2022 Fire Island Dance Festival





✛ Leadership Supporters
Sponsors

Back to Top