Hudson Valley Dance Festival Celebrates 10th Anniversary with Inspiring Performances
Inside a converted warehouse nestled amid foliage-flecked trees on the banks of the Hudson River, the 10th anniversary of the Hudson Valley Dance Festival on October 7, 2023, featured two standing-room-only performances of captivating dance from a diverse range of styles and raised a record-breaking $167,082.
The generosity of festival supporters helps ensure those in the Hudson Valley and across the country living with HIV/AIDS and other debilitating illnesses have access to lifesaving medications, counseling, healthy meals, housing and more.
Hudson Valley Dance Festival is produced by and benefits Dancers Responding to AIDS, a program of Broadway Cares/Equity Fights AIDS. Through its National Grants Program, Broadway Cares supports more than 450 social service organizations in all 50 states, Puerto Rico and Washington, D.C., including 15 vital providers in the Hudson Valley.
The 10th anniversary edition welcomed audiences to Historic Catskill Point in Catskill, NY, with a diverse and distinctive program, from contemporary to tap, ballet to Broadway. This year's Hudson Valley Dance Festival included world premieres from two Broadway performers – celebrated choreographers Reed Luplau and Corey John Snide – as well as a world premiere solo from Fadi J Khoury, founder of FJK Dance.
Capital District Arts Initiative, an Albany-based arts movement providing access and advocacy for arts empowerment, opened the show with the world premiere of Take the "A" Train. On a narrow tap floor mirroring the shape of a subway car, dancers Gianna Goldey, Rachale Mullally and initiative co-founders Corey John Snide and Jenna Snide playfully tap danced, effervescently moving in and out of unison – reflecting the communal and spirited A train experience.
Classically based modern company Alison Cook Beatty Dance shared an excerpt of MURMURATION, which imaginatively offers vignettes of daily life for a flock of birds, inspired by the aerial ballet of starlings. Featuring the flight of dancers Jacob Blank, Maddie Burnett, Ioanna Ioannides, Madeline Kuhlke, Emily Masia, Tomislav Nevistić, Payton Primer and Justin Rainey, the octet erupted from their onstage nest with soaring, graceful movement while still maintaining the eccentricity and singularity of each bird.
Cross-cultural contemporary company FJK Dance presented the world premiere of Mashaallah (ما شاء الله), a spellbinding solo performed by the company's founder, Fadi J Khoury. Khoury brought his Middle Eastern experience to the stage, beginning with fluid hand and arm movements before exploding into full-body athleticism, made complete with the folk tradition of a Sufi skirt that enveloped the stage as he enchanted the audience with Sufi whirls.
EMERGE125, a Black and female-led hub for dance performance, creation and education, shared Memphis Hesitation, choreographed by company founder Tiffany Rae-Fisher. Dancers Dennzyl Green, Alisa Gregory, Holly Hwang, Mikayla Klein, Madelyn LaLonde, Alyssa Manginaro and Caitlyn Morgan displayed sass and show-stopping musicality as they exuberantly bounded barefoot across the stage.
The world premiere of Reed Luplau's Love Lines was a tender, intimate piece that felt like falling in love. Luplau and Broadway's Gabriel Hyman effortlessly moved between lifting and holding each other in balletic motion, leaving the audience breathless in anticipation. Love Lines is an excerpt from When We Touch, Luplau's full-length piece currently in development.
Set to music by Janis Joplin, contemporary company Doug Varone and Dancers' Maybe had performers Courtney Barth and Ryan Yamauchi entangled in the push and pull of a romantic relationship. The duo seamlessly alternated between lifting each other up, pulling each other across the stage and falling apart. The company is led by Hudson Valley-based choreographer Doug Varone.
The Verdon Fosse Legacy brought Gwen Verdon and Bob Fosse's signature style and angular aesthetic to the Hudson Valley stage with a performance of Sweet Gwen Suite. Khori Michelle Petinaud led Tyler Eisenreich and Sam Faulkner in the endearing and energetic number, complete with a mesmerizing solo from Petinaud as she channeled Verdon's singular virtuosity. The trio expertly executed 1960s choreography created for Verdon's performances on Bob Hope's television specials and The Ed Sullivan Show.
Choreographer Holly Curran shared Half-Light, a piece at the intersection of modern and ballet. Performed by Dwayne Brown and Amber Neff, the elegant and entrancing duet found the pair falling in and out of synchronicity alongside everchanging violin music by Doori Na. Neff relied on Brown to help her defy gravity in a series of lifts, falls and contortions.
Parsons Dance closed the performance with an excerpt from its dynamic Swing Shift – a piece that celebrated its 20th anniversary this year. Dancers Zoey Anderson, Joseph Cyranski, Justine Delius, Nick Fearon, Megan Garcia, Joanne Hwang, Téa Pérez and Luke Romanzi were immersed inside the legendary piece's joyous study of fervorous dancing and precise partnering. This performance marked the internationally acclaimed company's Hudson Valley Dance Festival debut.
In celebration of the festival's 10th anniversary and its generous supporters, Broadway Cares/Equity Fights AIDS provided additional discretionary grants of $2,500 to each of the 15 Hudson Valley organizations that are part of Broadway Cares' National Grants Program.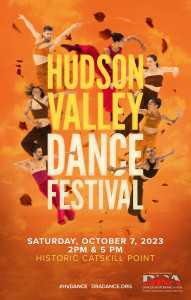 Those 15, which are among 450 organizations supported nationwide by Broadway Cares/Equity Fights AIDS are: Albany Damien Center and Alliance for Positive Health in Albany; Animalkind, Columbia-Greene Community Foundation, Columbia County Recovery Kitchen and Columbia-Greene Humane Society/SPCA in Hudson; Catskill Food Pantry, Matthew 25 Food Pantry and Community Hospice in Catskill; Hudson Valley Community Services in Hawthorne; Hudson Valley LGBTQ Community Center in Kingston; Rock Steady Farm in Millerton; Roe Jan Food Pantry in Hillsdale; TOUCH (Together Our Unity Can Heal) in Congers and Troy Area United Ministries in Troy.
Hudson Valley Dance Festival began in 2013 as a single performance at Historic Catskill Point. It has since grown into an annual audience favorite for the Hudson Valley region, raising more than $1.3 million through its 10 iterations. If you were unable to attend but would still like to make a difference, donate now.
Photos by Owen Burnham, Elyse Mertz and Daniel Roberts
Video by Bardo Arts; edited by Tessie Tokash
Leadership Supporters
Sponsors


Back to Top