Hudson Valley Dance Festival Breaks Record, Features Four World Premieres


On the banks of the Hudson River, dance artists and enthusiasts came together in a 19th century warehouse, complete with charming wooden walls and sunshine peeking through the slats, for this year's Hudson Valley Dance Festival on October 6, 2018, in Catskill, NY. After being converted into a stunning modern dance venue, it hosted two performances at Historic Catskill Point, which raised a record $158,030 for Dancers Responding to AIDS, a program of Broadway Cares/Equity Fights AIDS.
Featuring a diverse program with four world premieres, the shows featured performances by Bryn Cohn + Artists, Doug Varone and Dancers, Annmaria Mazzini and Michael Trusnovec, Paul Taylor Dance Company, Ricky Ubeda, The Washington Ballet, Wendy Whelan and choreography by Margie Gillis, Marcelo Gomes, Marcus McGregor, Ray Mercer, Troy Schumacher and Paul Taylor.
Hudson Valley Dance Festival has raised $764,724 over the event's six years. The money raised allows Broadway Cares/Equity Fights AIDS to help the most vulnerable among us by providing grants to AIDS and family service organizations nationwide, including 12 based in the Hudson Valley.
The show opened with an excerpt from Bryn Cohn + Artists' Skin, a piece exploring how identity is formed in response to gender, sexuality and politics. Dancers Nico Gonzalez and Dustin O'Halloran rarely lost contact as they pushed and pulled, carving out space for one another in an intimate and intense duet.
The Washington Ballet explored the comforts and conflicts of small town life in an excerpt of  Marcelo Gomes' The Outset. The piece alternated from rapturous to romantic to heartbreaking as performers Maki Onuki and Tamás Krizsa shared vulnerability, love and doubt through breathtaking balletic moves.


The legendary Paul Taylor Dance Company shared the excerpts "Totem Birds" and "Oracle" from Taylor's iconic piece Images. Dressed in flowing and colorful patchwork skirts, performers Eran Bugge, Laura Halzack and Madelyn Ho punctuated the lively and energetic pieces with engaging staccato motions.
Doug Varone and Dancers told the story of the intertwining lives of two couples 100 years apart in "The Fast Quartet," an excerpt from Possessions. The couples, portrayed by Jake Bone, Whitney Dufrene, Aya Wilson and Ryan Yamauchi, displayed incredible physicality through lifts, holds and falls as they balanced synchronicity with dynamic solos.
Former Paul Taylor Dance Company dancer Annmaria Mazzini and current company member Michael Trusnovec shared Margie Gillis' stirring and atmospheric duet Vers la Glace. The pair explored an alienated relationship through subtle, delicate and deliberate motion, as they both supported and pushed away each other.
So You Think You Can Dance champion Ricky Ubeda shared the world premiere of Billy Griffin's Is That All There Is?. Set to the dulcet tones of Peggy Lee, Ubeda infused his incomparable jazz skills with a touch of dark humor as some of life's greatest pleasures left him yearning for more.
New York City Ballet legend Wendy Whelan, who has a home in the Hudson Valley, performed the premiere of BalletCollective artistic director Troy Schumacher's Opus 55. Matching her inimitable ballet vocabulary with distinctly modern movement, Whelan was elegant and effortless as she performed the resonant, flowing and fluid piece.
Choreographer Ray Mercer, a 14-year veteran of Broadway's The Lion King, shared the premiere of Pretty Is…, a piece exploring and celebrating the many facets of strength and vulnerability in women. The movement ranged from turbulent and exposed to strong and powerful, with the cast of 10 dancers ultimately coming together with athletic, rhythmic and passionate force.


In a special piece celebrating the vibrant artistic community of the Hudson Valley, local choreographer Marcus McGregor shared the world premiere of Clouded Mirror. The number, which flowed from balletic and graceful to angular and modern, was performed by six local students, Lydia Ackerman, Riley Cornelison, Meegan Darling, Grace Howard, Haley Imbesi and Joanna Van Slyke. The piece was set to a live performance by Woodstock, NY, vocalist Fredo Viola and included spoken word poetry from students of Lycée Français De New York.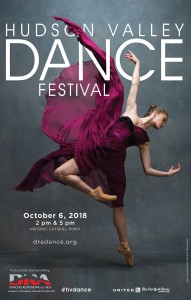 Following the event, VIP ticket buyers and sponsors joined the performers for an exclusive reception at W+G Space, a historic building in the heart of Catskill that once was used as a church, cigar factory and printing factory. Today, it serves as an art studio for Wenling Zhao and Guorui Shi, who's regarded as one of China's most famous photographers and is known for his large-scale, iconic photographs taken with a pinhole camera using a technique called camera obscura.
The 12 Hudson Valley area organizations receiving grants in 2018 are Albany Damien Center and Alliance for Positive Health in Albany, Animalkind, Columbia-Greene Community Foundation and Hudson Valley SPCA in Hudson, Matthew 25 Food Pantry and Community Hospice in Catskill, Hudson Valley Community Services in Hawthorne, Hudson Valley LGBTQ Community Center in Kingston, Roe Jan Food Pantry in Hillsdale, TOUCH (Together Our Unity Can Heal) in Congers and Troy Area United Ministries in Troy. The support helps ensure those in need have access to lifesaving medications, counseling, nutritious meals, women's health services and emergency financial assistance.
Hudson Valley Dance Festival is sponsored by The New York Times and United Airlines.
Photos by Whitney Browne, Alon Koppel, Daniel Roberts and Nina Wurtzel
Back to Top