Raises a record-breaking $146,297
Hudson Valley Dance Festival Breaks Record at Fifth Annual Performance


Changing leaves, crisp autumn air and breathtaking views of the Hudson River set the scene for the Hudson Valley Dance Festival on October 7, 2017, in Catskill, NY. Two performances of acclaimed and emerging dance companies at Historic Catskill Point raised a record $146,297.
Featuring styles from ballet to Broadway, the shows included performances by Alvin Ailey American Dance Theater, Cirio Collective, Joshua Beamish/MOVETHECOMPANY, Manuel Vignoulle – M/motions, MOMIX, New York Theatre Ballet, Tayeh Dance and choreography by Tony and Emmy Award winner Rob Ashford.
The show opened with an excerpt from Joshua Beamish/MOVETHECOMPANY's Saudade, a piece taking a heartbreaking look at nostalgia as four dancers yearn for an elusive past. The number seamlessly melded balletic poise with street-style dynamics in a darkly romantic piece, conjuring feelings of unfulfilled desires.
Company founder Joshua Beamish later presented Concerto, a solo he also choreographed. The piece, set to classical music by Johann Sebastian Bach, fused classical ballet, contemporary isolations and pop-music physicality, creating a piece that straddled the line between elegance and sensuality.
New York Theatre Ballet shared one of dance legend Merce Cunningham's rarely performed masterpieces, Cross Currents. Inspired by the way dancers' paths frequently intersect and set to strikingly staccato music by Conlon Nancarrow, performers Joshua Andino-Nieto, Alexis Branagan and Amanda Treiber contrasted ballet with sharp, angular movements as they explored the unique rhythms and synchronicities in the art form.


Tayeh Dance, founded by two-time Emmy nominee Sonya Tayeh, shared BEGIN, an intimate excerpt of you'll still call me by name, an emotionally charged dance exploring a complex and jagged relationship between a mother and daughter. The striking piece, performed by Jennifer Freeman and Chelsea Thedinga, had the duo alternating between tense, aggressive movement and tender, gentle moments, exposing the heartbreak and duality in strained familial relationships.
Ashford, a Broadway favorite who's choreographing Disney's upcoming Frozen musical, shared an excerpt from the dream ballet of Carousel. Marty Lawson and Abigail Simon had the audience spellbound by their romantic rendition of the theatre classic, as Simon and Lawson brought to life the passionate and playful ballet, set to Richard Rodgers' lush score.
Inspired by a photograph by Nick Knight called "Suzie Smoking" and the multiple locations in which the piece was created, Cirio Collective shared In the Mind: The Other Room, a piece exploring a debate in one's own mind. Dancers Isaac Akiba, Lia Cirio and Paul Craig showed impressive athleticism as they used each other's bodies to propel and restrain each other through lifts and intensely rhythmic motion.
Adding a dash of comedy to the lineup, dancers Gregory De Armond, Jonathan Eden and Jason Williams of MOMIX emerged onstage, each balancing one of their legs on a stilt, to perform Daddy Long Leg, an ode to the Argentine gaucho and American cowboy. The trio showed masterful athletic prowess as they balanced on their peg leg and humorously galloped across the stage, complete with iconic cowboy hats and customized chaps.
Manuel Vignoulle – M/motions captivated audiences with a stunning performance of Black & White, which connects two individuals of different sexes, backgrounds and cultures through a quest of self discovery. The fluid movements of the dancers – Rena Butler and Vignoulle, who also choreographed the piece – explored the stark differences and harmonious similarities between the dancers in this vulnerable, intimate piece.
Set to a fiery score of African hand drumming and Middle Eastern folk music, internationally acclaimed Alvin Ailey American Dance Theater presented Robert Battle's eccentric and electric Strange Humors. Performed by Michael Francis McBride and Samuel Lee Roberts, the duo's aggressive movements ultimately met in an explosive confrontation.


Following the event, VIP ticket buyers and sponsors joined the performers for an exclusive reception at W+G Space, a historic building in the heart of Catskill that once was used as a church, cigar factory and printing factory. Today it serves as an art studio for Wenling Zhao and Guorui Shi, who's regarded as one of China's most famous photographers and is known for his large-scale, iconic photographs taken with a pinhole camera using a technique called camera obscura. Those attending the reception got the rare chance to see his unique prints up close as they hung from floor to ceiling throughout the space.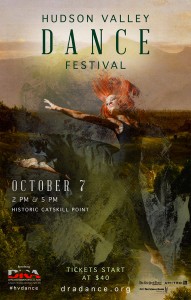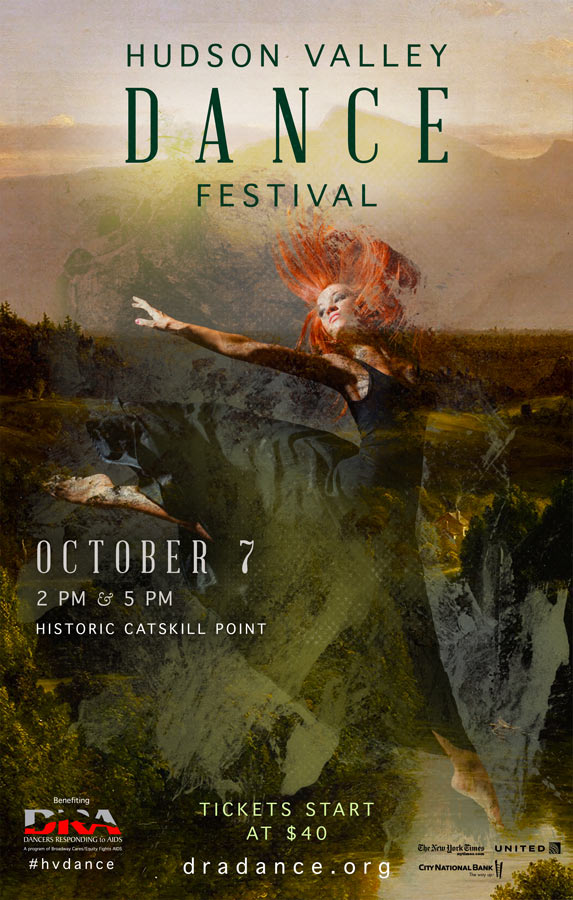 Eleven Hudson Valley area organizations received grants in 2017 from Broadway Cares/Equity Fights AIDS and Dancers Responding to AIDS. They were Albany Damien Center and Alliance for Positive Health in Albany, Animalkind and Columbia-Greene Community Foundation in Hudson, Matthew 25 Food Pantry and Community Hospice in Catskill, Hudson Valley Community Services in Hawthorne, Hudson Valley LGBTQ Community Center in Kingston, Roe Jan Food Pantry in Hillsdale, TOUCH (Together Our Unity Can Heal) in Congers and Troy Area United Ministries in Troy. The support helps ensure those in need have access to lifesaving medications, counseling, nutritious meals, women's health services and emergency financial assistance.
Hudson Valley Dance Festival has raised an impressive $606,694 over the event's five years.
Event photos by Francisco Graciano; reception photos by Rob Shannon/Fotopic

This Year's Program
Sponsors

Back to Top