Fire Island Dance Festival Delivers Breathtaking Performances
Life's gorgeous expanse was at the forefront of this year's Fire Island Dance Festival, expressed through stunning dance and stories, all enhanced by the power of nature as it played out on the scenic backdrop of the waters of the Great South Bay.
The longest-running charitable and cultural event in Fire Island Pines raised a record $700,572 for Dancers Responding to AIDS, a program of Broadway Cares/Equity Fights AIDS.
The festival, held July 14-16, 2023, helps ensure those across the country living with HIV/AIDS and other debilitating illnesses have access to lifesaving medications, counseling, healthy meals, housing and emergency assistance.
Star of stage and screen Alan Cumming, who also serves as on the Broadway Cares Board of Trustees, hosted the festival's three performances with effortless charm, sharing witty stories and two delightful musical numbers.
This year's captivating performances included four world premieres by choreographers Raja Feather Kelly, Alec Knight, Jonathan Lee, Ray Mercer, Paul McGill and Skyla Schreter, featuring a solo, pas de deux, trio and three ensemble pieces.
Opening the show was prolific choreographer Ray Mercer, also a 21-year veteran of Broadway's The Lion King, who returned to Fire Island Dance Festival with the world premiere of Love is Luv! The piece celebrated love in all forms as dancers Meredith Harrill, Rayan Lecurieux-Durival, Olivier Medus, William Roberson, Dylan Santos and Scott Willits rushed and flowed in and out of each other's graceful embraces.
Choreographer Skyla Schreter explored the duality of memory in Momento Mori. In the pas de deux, New York City Ballet soloist Ashley Hod and former Philadelphia Ballet member Craig Wasserman danced to a dramatic, orchestral score that enlivened the number's daring leaps.
Dancer and political activist Ahmad Joudeh, who fled the Syrian refugee crisis with the help of the Dutch National Ballet, shared his original piece Layl (Night). Joudeh combined balletic movement with the folk traditions of the Sufi circle, showing poise and strength in equal measure as he made mesmerizing dervish whirls in a Sufi skirt.
Dying Swans, a tenderly moving pas de deux by Philadelphia Ballet Resident Choreographer Juliano Nunes, depicted the beauty in queer partnerships. The pas de deux featured Boston Ballet principal Derek Dunn and Bavarian State Ballet first soloist Shale Wagman moving with fluid precision, interweaving their arms in waves that ran parallel to those of the Great South Bay.
Celebrated New York City Ballet principal Taylor Stanley used their signature shape-shifting versatility to deliver an exploration of the doubts and affirmations of queer partnership. The original work choreographed by Alec Knight, a fellow New York City Ballet dancer and Stanley's husband, was set to bass-heavy electronic music interwoven with classical instrumentation in a composition by Porter Robinson.
Showdown marked the festival debut for Jonathan Lee, associate director and choreographer for Broadway Bares. In its world premiere, the number celebrated 50 years of hip-hop through an old-school dance battle featuring b-boying, popping and krumping, with a bit of locking, vogue, lite feet and house mixed in. The lively number featured Yusaku Komori, Wayne "Juice" Mackins and Gabriel Reyes.
Former San Francisco Ballet principal Benjamin Freemantle, Broadway's Gabrielle Hamilton and Jakob Karr and Martha Graham Dance Company soloist Lorenzo Pagano debuted The Sunken Cathedral. Choreographer Paul McGill's existential, contemporary number featured precise, striking movement set to Claude Debussy's "La Cathédrale Engloutie," which was performed live by pianist Danny Zelibor.
A live performance by critically acclaimed musician serpentwithfeet with choreography by Raja Feather Kelly navigated the pitfalls of nightlife culture and emotionally unavailable men with the help of dancers Shaquelle Charles, Dylan Contreras, Justin Daniels, Chrystion Dudley, Brandon Gray and Nelson "Nellie" Enrique Mejia Jr. The number, presented in collaboration with The Joyce Theater, captured the multi-generational spirit of the Black queer community.
Parsons Dance closed each performance with its uplifting excerpt from Whirlaway. The tribute to New Orleans from choreographer David Parsons featured Zoey Anderson in a spirited solo before other company members Joe Cyranski, Justine Delius, Nick Fearon, Megan Garcia, Joanne Hwang, Téa Pérez and Luke Romanzi spilled onto the stage in a joyous romp set to the music of Allen Toussaint. Together, the dance and song made a compelling call to "make this land a better land than the world in which we live."
In addition to his witty hosting duties, Tony Award-winner Cumming swirled through a "kaleidoscope of feelings" in two musical numbers, "But Alive" and "Everything." He was joined by Fire Island Dance Festival and Alvin Ailey American Dance Theater alumni Michael Francis McBride and Samuel Lee Roberts. Pianist Henry Koperski provided live accompaniment.
Leadership Supporters kicked off the festival weekend at the Albert Lepage Outdoor Pavilion at Whyte Hall. Presented in association with Works & Process at the Guggenheim Museum, New York City's Masterz at Work Dance Family brought dips, duckwalks and more dynamic dance with All InClusive, a number rooted in street and social dance. The energetic piece was choreographed by ballroom legend Courtney Washington Balenciaga. The Leadership Event was generously sponsored by Paul Austin and Dalip Girdhar.
On display throughout the weekend were three panels from the AIDS Memorial Quilt honoring loved ones who passed away from complications with the virus. The panels included tributes to Robert Freedman, a member of the Fire Island community, as well as Christopher Gillis and Jeff Wadlington, members of Paul Taylor Dance Company whose deaths were the impetus for the creation of Dancers Responding to AIDS. The heartfelt contribution was made possible by NAMES Project Co-Founder and Fire Island resident Mike Smith.
Due to inclement weather, Sunday's July 16 performance was safely moved to the covered deck of Whyte Hall, where audiences triumphed against heavy rain for a late afternoon of world-class dance.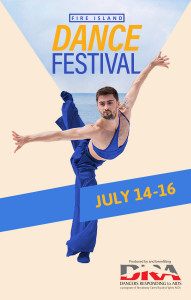 Since its premiere in 1995, Fire Island Dance Festival has raised more than $8.4 million to help support the safety net of social services for those in the performing arts and to help provide lifesaving medication, nutritious meals, counseling and emergency financial assistance to those in need in all 50 states, Washington D.C., and Puerto Rico.
Dancers Responding to AIDS and Broadway Cares continued their commitment to health care in the Fire Island Pines community with a $25,000 grant again this year to the Pines Care Center. The grant will help provide access to essential medication and resources for the Fire Island Pines community.
Fire Island Dance Festival is generously supported by corporate sponsors The New York Times and United Airlines, the official airline of Broadway Cares, with additional support from The Charles and Lucille King Family Foundation in memory of Diana King.
This Year's Program
Sponsors

Back to Top