Fire Island Dance Festival 2012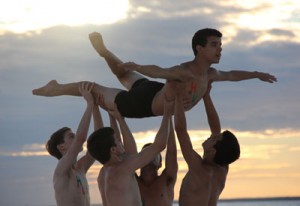 Fire Island Dance Festival returned to Fire Island Pines for its 18th awe-inspiring edition, raising a record-breaking $374,260 through three weekend performances July 20-22, 2012.
Humorist, actor and writer Mo Rocca hosted the event, which featured a diverse mix of world-renowned and emerging dancers, dance companies and choreographers. The program celebrated an eclectic array of ballet, modern, tap, hip-hop, Broadway and contemporary dance performed outdoors at a landmark bay-front home against the stunning backdrop of the Great South Bay.
The festival included five new works, choreographed by Rob Ashford, Monica Bill Barnes, Rennie Harris, Edwaard Liang and Lizzie MacKenzie.
This year's fundraising total surpassed the previous record, set just last year, by more than $30,000. In its 18 incarnations, Fire Island Dance Festival has raised more than $2.9 million.
"It doesn't seem that long ago that we first came out to Fire Island Pines and raised $8,000 with 10 performers on a make-shift dance floor," said Denise Roberts Hurlin, founding director of Dancers Responding to AIDS. "And the reasons we do it today are just as strong and resonant as they were 18 years ago. We're fighting to end the stigma that surrounds this disease and to make sure that no one facing these intense personal challenges does so in isolation or shame."
This year's festival featured a piece created especially for the event by Ashford, the Tony Award-winning choreographer and director whose work currently can be seen on Broadway in the hit revival of Evita. The piece illuminated the evolution of a couple's relationship, seen through pairs of dancers reflecting their youthful courtship, their passion for each other and a period of pent-up tension.
Fire Island Dance Festival 18 also included these performances:
• Ballet Hispanico debuted "A Verme," an intimate pas de deux choreographed by Liang. "A Verme" translates from Spanish as "to see me," and with a swelling string-based instrumental, the couple reflected the title with intensity.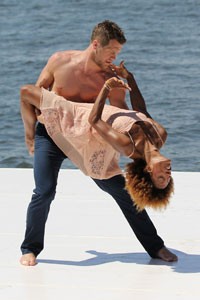 • David Grenke Performance Projects delivered a reconstructed look at "Vespers," danced for the first time by two men and exploring the emotional intensity of one man deeply mourning the loss of another.
• Jared Grimes lit up the stage with his charm and a tap number fueled by intricate steps and lightning-fast feet set to the music of Sammy Davis Jr.
• MOMIX returned to the festival with a dizzying encore of "Aqua Flora," a piece that debuted at Fire Island Dance Festival 13. Dancer Nicole Loizides floated across the stage, continuously spinning with her floor-length, crystal-beaded headdress rising and falling and creating living art with each turn.
• Monica Bill Barnes & Company opened the show with a quirky dance set to Ike and Tina Turner's version of "Proud Mary," showcasing their rare and unique ability to find humor and the innate theatricality of moments in everyday life.
• Project Moves Dance Company shocked the audience as five teenage male dancers began the number wearing signs with homophobic slurs. Committed to sharing a powerful message of human respect and acceptance, the company ultimate shed the insults and, in an act of emotional freeing, ripped off T-shirts to movingly reveal the word "Human" painted on each of their chests.
• Yosvani Ramos, the Cuban-born principal artist of The Australian Ballet, owned the stage in a dynamic, contemporary piece, choreographed by MacKenzie, that showcased Ramos' strength and power both in performance and technique.
• Rennie Harris Puremovement brought hip-hop to the festival with a layered story set to Queen's "Bohemian Rhapsody" that explored the challenges of breaking out of your circumstances, rising above others' pre-conceived expectations and empowering your peers to do the same.
• Sidra Bell Dance New York performed an unconventional male duet from "ReVUE" that explored the power play, resistance and submission in a relationship and featured a visual twist: one dancer wore black business socks, the other sparkling red stilettos.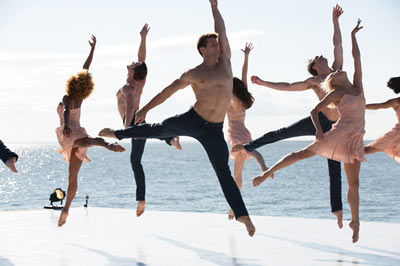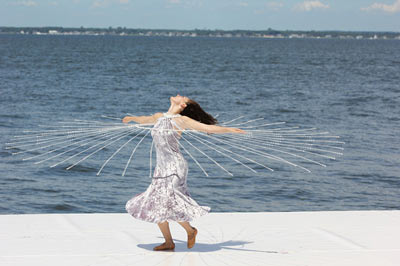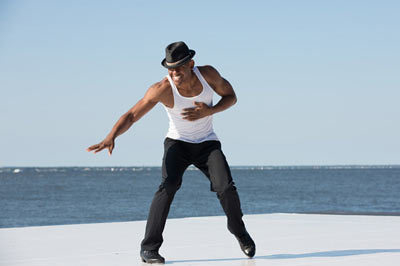 The Bang Group and Eric Bourne of Parsons Dance presented a special performance July 20 as part of an exclusive festival kick-off event for Leadership Supporters at Whyte Hall.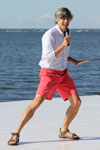 Rocca, a regular on CBS News Sunday Morning, star of Cooking Channel's My Grandmother's Ravioli and a featured panelist on NPR's hit weekly quiz show Wait, Wait…Don't Tell Me, brought a healthy dose of wit and satire to the festival.
Rocca explained he first became a lover of dance as a teenage usher at the National Theatre in Washington, DC, during what he was sure was "the third national tour of Cats." Demonstrating nimbleness and lightness on his feet, Rocca ran through an agile series of Jellicle dance moves from the show. And later he shared his own dance trick: a one-handed cartwheel while holding a glass of water.
Fire Island Dance Festival 18 was sponsored by The New York Times, United Airlines, DIRECTV, Absolut Vodka, Beaulieu Vineyard, The Fire Island News, Get Gay Chauffeur, Here Media, Movmnt Magazine, Next Magazine, Pines Bistro, Sayville Ferry Service, Showtime and Tony's Barge Service.
Photos by Rosalie O'Connor and Danny Roberts
Back to Top