Despite Stormy Weather, 24th Annual Fire Island Dance Festival Shines



Once-in-a-lifetime pairings of ballet and contemporary luminaries, three unmissable world premieres, an excerpt of a seminal piece that changed the history of modern dance and unpredictable weather conditions marked the sold-out Fire Island Dance Festival on July 20-22, 2018.
The charitable event of the Fire Island summer, which takes place in the Pines, included the world premieres of three works. Since the festival began in 1995, 64 works have premiered at Fire Island Dance Festival.
The exhilarating weekend of dance set a fundraising record for the eighth year in a row, raising $604,103. In its 24 editions, Fire Island Dance Festival has raised more than $6.1 million to ensure the most vulnerable among us in New York City and across the country have access to lifesaving medications, counseling, healthy meals and supportive housing.
A forecast for strong evening storms and wind prompted Saturday's performances to be moved earlier in the day. On Sunday, unexpected pop-up showers forced cancellation of the closing 5 pm performance. However, thanks to the enthusiasm and resilience of Dancers Responding to AIDS' supporters, the party continued at Whyte Hall with complimentary cocktails and opportunities to meet and mingle with the dancers.
The festival's three premieres were choreographed by Jeffrey Cirio, artistic director of Cirio Collective; James Kinney, an accomplished theatre choreographer; and Jamar Roberts, a celebrated member of Alvin Ailey American Dance Theater.
This year's festival was hosted by the sassy and sensational Nathan Lee Graham, best known for his performances in Priscilla Queen of the Desert, The Wild Party and The View UpStairs, and for the iconic role of Todd in the Zoolander movies.
"My business, the business of show, can sometimes be superficial and frivolous," Graham told the audience. "But when I get an opportunity to work with organizations like Dancers Responding to AIDS and Broadway Cares/Equity Fights AIDS, it makes my life more meaningful. It makes what we do a little more important. There's nothing better than helping someone else."


The festival featured nine unique pieces.
Tony Award-winning and internationally acclaimed choreographer Christopher Wheeldon presented Us, a heart-rending and moving duet about a deeply passionate and turbulent relationship. Tony Award nominee and former New York City Ballet principal Robert Fairchild teamed up with two-time Emmy Award-winning So You Think You Can Dance choreographer Travis Wall. The duo alternated between lifting each other up and pushing each other away, showing their conflict and intimacy through impressive strength and poignant physicality.
Paul Taylor Dance Company's newly-announced artistic director designate Michael Novak performed an excerpt of Taylor's seminal work Aureole. The piece, which debuted in 1962, changed the face of modern dance. Today, Novak's breathtaking grace and skill gave a new perspective to the iconic, playful piece.
Camille A. Brown & Dancers shared New Second Line, a piece celebrating the spirit and culture of the people of New Orleans. Traditionally, a "second line" is a parade that most notably follows funeral processions. Set to lively brass band music, the dancers celebrated life through spirit and exuberance, finding joy even in some of life's darkest moments.
Caleb Teicher & Company presented Hullabaloo Today, a tribute to the 1960s variety show Hullabaloo. This feisty, fresh and charismatic work, choreographed by Caleb Teicher, made its world premiere at this year's edition of the Easter Bonnet Competition, Broadway Cares' annual spring fundraising celebration.
Real-life couple American Ballet Theatre principal dancers Cory Stearns and Devon Teuscher performed Gemma Bond's romantic and flowing pas de deux, Depuis le jour. Reflecting the memory of the first blissful moments of falling in love, the pair's affection was tangible as Stearns elegantly and effortlessly lifted Teuscher across the stage with incomparable balletic grace.
Married couple Michael Francis McBride and Samuel Lee Roberts took a departure from their Alvin Ailey American Dance Theater repertoire to perform celebrated theatre choreographer James Kinney's piece, Birth of the Blues. Paying homage to Sammy Davis Jr. and set to his classic song "Birth of the Blues," the duo shared jazzy, soulful choreography that displayed their athleticism and contagious charisma.
The Chase Brock Experience presented Splendor we only partially imagined, a kinetic and colorful piece that found joy, delight and wonder in every movement. Inspired by a sentence in Patti Smith's memoir Just Kids, the piece first premiered at Dancers Responding to AIDS' Hudson Valley Dance Festival in 2015.
Jamar Roberts & Dancers premiered Palance, a rapturous number featuring five artists from Alvin Ailey American Dance Theater. Dynamic, bright patchwork costumes, designed by Eric Winterling, matched the bold, strong and rooted energy of the choreography, which showcased of the exuberance of movement in moments of celebration and euphoria.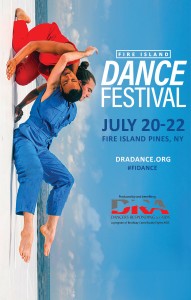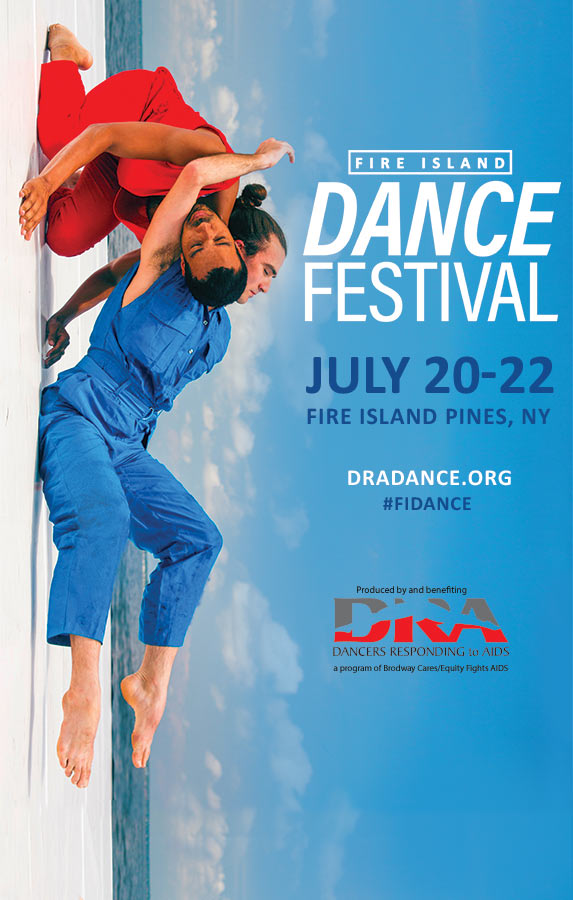 Cirio Collective premiered Tornerai?, performed by Boston Ballet principal Paul Craig and American Ballet Theatre soloist Blaine Hoven. Sharp angles contrasted fluid motion in the engaging duet, which mirrored the varying speeds and tones of the eclectic music by Musica Sequenza and Biosphere.
Thanks to the generosity of and last-minute coordination with Fire Island Pines Property Owners Association, audiences were treated to cocktail receptions Saturday and Sunday at the weather-protected Whyte Hall.
Josh Prince, choreographer of Broadway's Beautiful – The Carole King Musical, kicked off the festival Friday night with his Broadway Dance Lab, a choreography incubator for theatre artists. He presented Overture of Overtures, a delightful and charming quartet of dance pieces set to the overtures from Mack & Mabel, Candide, Dirty Rotten Scoundrels and The Boyfriend. This exclusive performance, sponsored by DIRECTV, was part of the opening event for the festival's Leadership Supporters.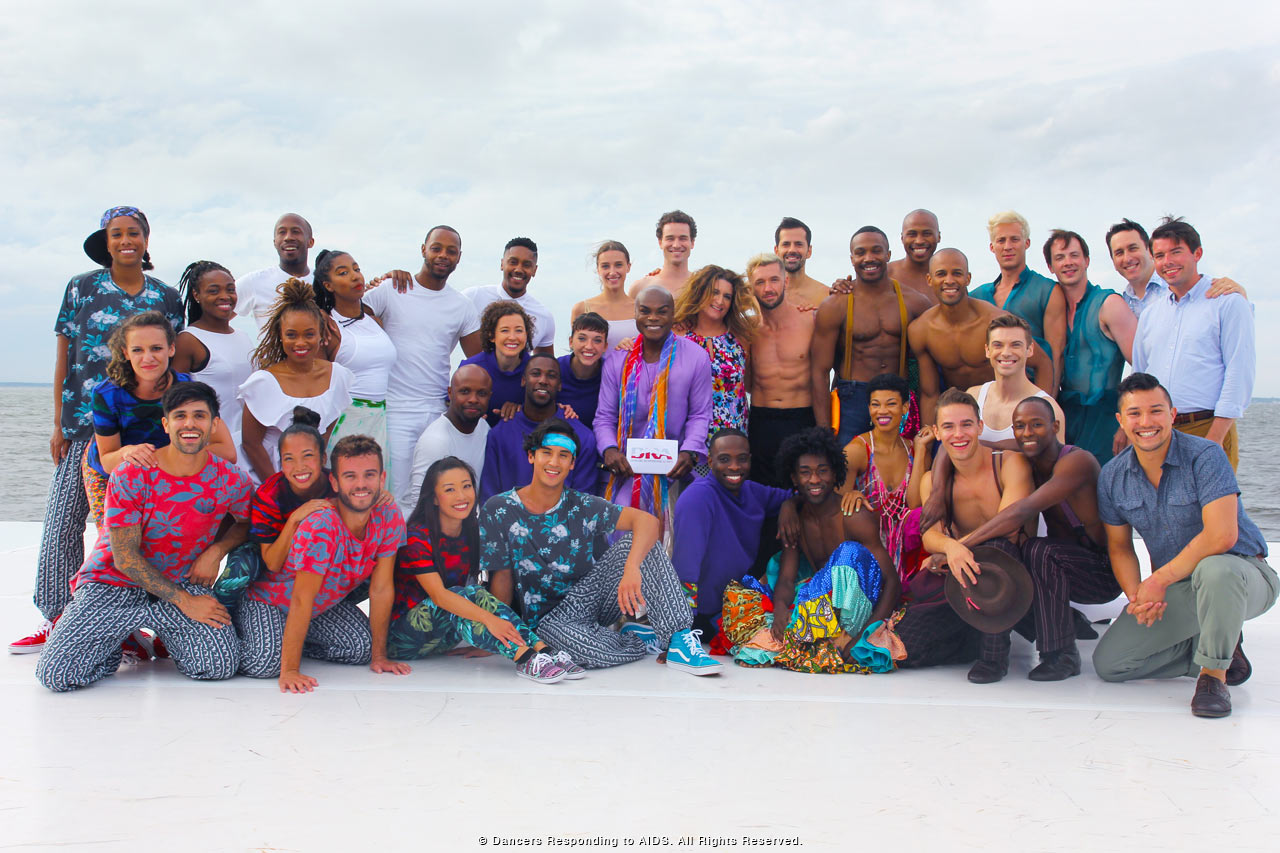 Fire Island Dance Festival is generously sponsored by DIRECTV, Kikico Property Management, The New York Times, Sayville Ferry, United Airlines and Walter Boss Custom Builder.
Photos by Matthew Murphy and Daniel Roberts
Video by Víctor Rodríguez, edited by Mo Brady
This year's program
Back to Top