Camille A. Brown Pays Homage to Diasporic Dance at Inside Dance Series
With her instantly-recognizable blend of modern, hip-hop, African, tap and social dance styles, Camille A. Brown has established herself as one of the most singular forces in the world of dance.
Dancers Responding to AIDS and its supporters welcomed the prolific dancer, choreographer and founder and artistic director of Camille A. Brown & Dancers to an installment of Inside Dance Series on February 2, 2023, at New York City's Chelsea Factory.
Brown's extensive list of credits includes being the first Black woman in 67 years to direct and choreograph a work on Broadway with the 2022 revival of for colored girls who have considered suicide/when the rainbow is enuf. She also is a Bessie Award and four-time Princess Grace Award winner. The audience enjoyed a reel of Brown's work after the performance.
The audience was treated to a performance of "Turf," an excerpt from her 2017 piece ink. As typically done, the work was performed without a music track. The urgent and theatrical movement of the number relied solely on percussive hand slapping, heavy panting, jumping feet and other sounds from the bodies of dancers Eric Parra and William Roberson as a soundtrack.
The dancers alternated between boastful and vulnerable movements that drew from a variety of African diasporic dance styles, all with a playful sense of humor fully intact. To the surprise of the audience, Parra and Roberson had never performed the piece in public.
ink examines the culture of Black life that is often appropriated, rewritten or silenced.
The literal silence of the unaccompanied piece emphasized the almost telepathic, gestural vocabulary that evolves in cultures with origins where public displays of fellowship and communication are done with discretion.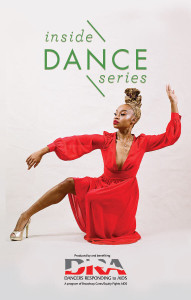 Following the performance, Danni Gee, director of programming at The Joyce Theater and former lead dancer at Alvin Ailey American Dance Theatre and Philadanco!, moderated a Q&A with Brown. The two discussed Brown's career journey, from her beginning as a breakout performer in Ronald K. Brown's Evidence, A Dance Company to starting her own company, as well as her transition from concert dance to Broadway choreography.
Throughout the challenges of her career, the joy of movement and creation pushed Brown to keep going. "Initially I did not want a dance company," she said. "I didn't know if I had the stamina to be a choreographer and in this other position of leadership but I realized I needed that space to create. I realized my voice was all I had. I had no choice but to make my own stage and to create my voice."
Inside Dance Series is an evening exclusive to DRA and Broadway Cares Visionary Circle and Angels Circle members and provides an intimate look at dance with performances featuring acclaimed dance companies and choreographers, as well as a Q&A with the artists.
Photos by Rebecca J. Michelson
Back to Top