Dancers Responding to AIDS
A Program of Broadway Cares/Equity Fights AIDS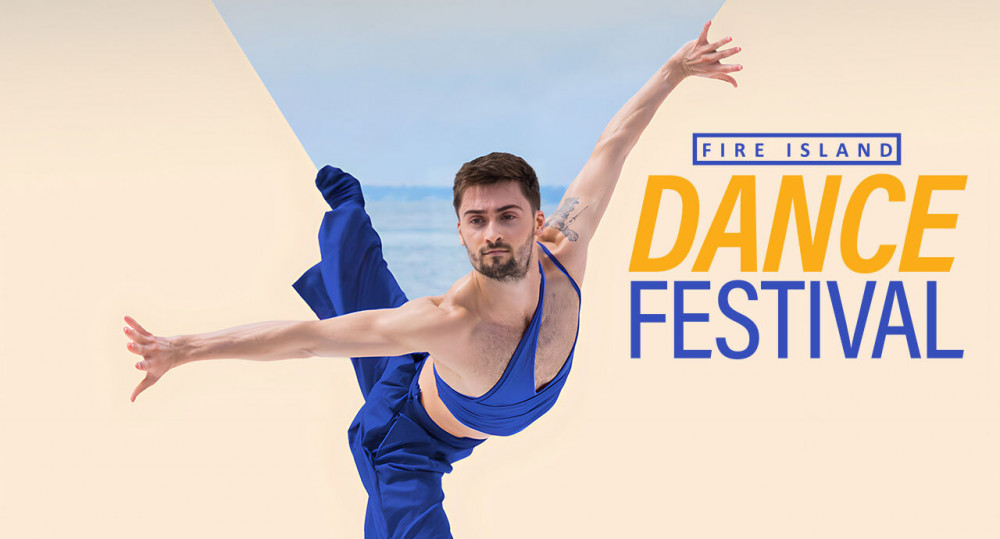 Biographies – Fire Island Dance Festival 2023 Program
Click on the list below to read about their performers.
Love is Luv!
Meredith Harill (she/her)
Meredith Harill began her training at Central Florida Ballet and went on to attend the Kirov Academy of Ballet of Washington, D.C. She was a trainee with Joffrey Ballet Chicago and BalletMet. Harill joined State Street Ballet in 2013, where she performed several soloist roles. Since 2017, she has been a company artist with Visceral Dance Chicago under the direction of Nick Pupillo. @meredithharrill
Olivier Medus (he/him)
Olivier Medus has performed with the Metropolitan Opera in productions of Porgy and Bess, Fire Shut Up in My Bones and Champion and with the Lyric Opera of Chicago, Broadway's After Midnight and Ailey II. Medus also is an emerging choreographer and dance educator at The Ailey School. @olivier.medus
Ray Mercer (he/him)
Ray Mercer is in his 17th year as a dancer and fight captain in Disney's The Lion King on Broadway. He has frequently created work for Dancers Responding to AIDS and Broadway Cares/Equity Fights AIDS, as well as for Ailey II, Dallas Black Dance Theatre, Dayton Contemporary Dance Company, New Jersey Ballet, the Pensacola Ballet and PHILADANCO!. He is the resident choreographer for the Ailey/Fordham Bachelor of Fine Arts Program in Dance and PHILADANCO!. The Smithsonian Museum commissioned and archived his work Hamdan: Through the Gate of Tears.
William Roberson (he/they)
William Roberson, a native of Tennessee, graduated from Howard University in 2013. Following Howard, he's been fortunate to perform with Hope Boykin, Deeply Rooted Dance Theater and is currently with Camille A. Brown and Dancers. He's also a pilates instructor and production assistant with Alvin Ailey American Dance Theater. @thewcr
Dylan Santos (he/him)
Dylan Santos is originally from São Paulo, Brazil. He has been living and working in the United States for 16 years. Currently, he is a lead dancer with the Dance Theatre of Harlem in New York City. Santos has been choreographing since 2010. His Afro-Brazilian heritage and experiences as a gay man of color influence his advocacy for inclusion and diversity in the ballet community. @dyldylsantos
"Everything"
Henry Koperski (he/him)
Henry Koperski is a composer, writer and music director. His compositions have been featured on Netflix, Audible and Showtime. Koperski has written songs for chart-topping podcasts including Las Culturistas, Seek Treatment and Inside the Closet. The New York Times has called him "the connective tissue" of the NYC music/comedy scene. His frequent collaborators include Alan Cumming, Matteo Lane, Larry Owens, Matt Rogers and Ari Shapiro. He records his own music under the name Henki Skidu. @henkiskidu
Memento Mori
Ashley Hod (she/her)
Ashley Hod was born in Great Neck, NY, and began her dance training at the Great Neck School of Dance, followed by 10 years at the School of American Ballet. Hod became an apprentice with New York City Ballet in November 2012 and joined the corps de ballet in October 2013. In January 2022, she was promoted to soloist. @ashhOd
Skyla Schreter (she/her)
Skyla Schreter is a New York-based choreographer, director and multi-disciplinary creator. Formerly a dancer of San Francisco Ballet and Boston Ballet II, she creates innovative dance that blends movement styles and often synthesizes various artistic disciplines. Schreter is an adjunct professor of dance at Vassar College and a co-founder of LotusWorks Gallery in Beacon, NY. @skylaschreter.art
Craig Wasserman (he/him)
Craig Wasserman received his ballet training on scholarship at the School of American Ballet. In 2012, Wasserman joined Pennsylvania Ballet where he's performed several principal roles, including Baslio in Don Quixote, Conrad in Le Corsaire, and Cavalier and Candy Cane in George Balanchine's The Nutcracker. @cragieboyholla
Layl (Night)
Ahmad Joudeh (he/him)
Ahmad Joudeh was born and raised in Syria as a stateless refugee. In 2016, he moved to Amsterdam with the help of the Dutch National Ballet. Since then, he has been internationally recognized performing with Roberto Bolle, Eurovision and, recently, at the World Economic Forum in Davos. His memoir, Dance or Die, was published in 2012, the same year he obtained Dutch nationality. @ahmadjoudehofficial
Dying Swans
Derek Dunn (he/him)
Derek Dunn is from Glen Burnie, MD. In 2012, he joined Houston Ballet, where he remained until 2017. That year, Dunn joined Boston Ballet as a soloist and was promoted to principal dancer the following season. Throughout his career, Dunn has performed numerous principal roles and has worked with many world-renowned choreographers. When not performing in Boston, Dunn performs as an international guest artist. @derekbdunn
Juliano Nunes (he/him)
Juliano Nunes was born in Rio de Janeiro, Brazil. He studied dance at the University of Performing Arts in Mannheim, Germany. Nunes joined companies including the Badisches Staatstheater Karlsruhe, Theater Hagen, Gauthier Dance in Stuttgart, Leipziger Ballet. He now dances for the Royal Ballet of Flanders. Nunes has worked with choreographers such as Ohad Naharin, Jiří Kylián, Hans van Manen, Sidi Larbi Cherkaoui, William Forsythe and Akram Kahn. As a choreographer, he has created pieces featuring Marie-Agnès Gillot, Svetlana Lunkina and Evan McKie.
Shale Wagman (he/him)
Canadian dancer Shale Wagman trained in Toronto and in Monte Carlo at the Académie Princesse Grace. His awards include first prize at the Prix de Lausanne, the Rudolf Nureyev Foundation Prize and Youth America Grand Prix. He was the youngest guest to perform in a principal role at the Mariinsky. He has performed with the Bavarian State Ballet since spring 2021 and was promoted to first soloist. He has worked with choreographers David Dawson, Marco Goecke, Juliano Nunes and Alexei Ratmansky. @shalewagman
I Cry for All That is Beautiful
Alec Knight (he/him)
Alec Knight was born in Queensland, Australia. He began his dance training in jazz and tap dance at Davidia Lind Dance Centre in 2007 and trained at The Australian Ballet School. Knight attended the School of American Ballet, the official school of New York City Ballet. While still an apprentice with New York City Ballet, he originated a featured role in Nicolas Blanc's Mothership. He joined the company as a member of the corps de ballet in May 2016.@alecknight
Taylor Stanley (they/them)
Taylor Stanley was born in Philadelphia and began their dance training at the age of three at The Rock School for Dance Education.In 2009, Stanley became an apprentice with New York City Ballet and joined the company's corps de ballet in 2010. They were promoted to soloist in 2013 and to principal dancer in 2016. They have originated roles in multiple works by Justin Peck, Alexei Ratmansky and Christopher Wheeldon, along with featured roles in classic works by George Balanchine and Jerome Robbins. @tgs0530
Showdown
Yusaku Komori (he/him)
Yusaku Komori began his dance training at the age of five. He achieved first prize in three prestigious Japanese competitions when he was in high school. He also received a fellowship program from The Ailey School. @artofnouse.dance
Jonathan Lee (he/him)
Jonathan Lee was born and raised in Brooklyn. He has toured internationally as a backup singer, dancer or choreographer with various recording artists including Grammy Award winners Madonna, Gloria Estefan, Mariah Carey, Britney Spears, Justin Timberlake and Pitbull. Lee is a longtime associate director and choreographer for Broadway Bares. He also has made rounds in the film festival circuit with a number of dance film shorts he's directed and choreographed. His 360/VR dance film "Say Our Name" won a Samsung Creators Award. @iamjonathanlee
Wayne "Juice" Mackins (he/him)
Wayne "Juice" Mackins is a graduate of the Debbie Allen Dance Academy, Fordham University and soon will begin his graduate studies at Yale University. @juicemackins
Gabriel Reyes (he/him)
Gabriel Reyes, originally from New Jersey, trained mainly at Stockton University and is also self taught. Credits include the Broadway cast and first national tour of On Your Feet, Legally Blonde at The Muny and at the 2017 Tony Awards. He also has performed in New York's ballroom scene. @dancing_with_gabe
Heart of Brick (excerpt)
Shaquelle Charles (he/him)
Hailing from Atlanta, Charles focuses his efforts on utilizing the physicality of his ballet technique, incorporated with the body's individual history to extend a sui generis experience for the audience. He gives credence to the body as a source of history and proceeds to pull from these histories and experiences to connect the audience with his movements. @Shaq.quelle
Dylan Contreras (he/they)
Dylan Contreras is a graduate of the Boston Conservatory where he performed works by Dam Van Hyunh, Juel D. Lane and Doug Varone. Contreras has worked with Jon Batiste, David Dorfman, Hivewild and Tiesto. Contreras is a performer and dramaturg for Haus of Pvmnt and Motlee Party. They are currently touring with serpentwithfeet in Heart of Brick. @dm.con
Justin Daniels (he/him)
Atlanta native Justin Daniels began his artistic career while attending Tri-Cities High School Visual & Performing Arts Program in East Point, GA. After furthering his studies at the Boston Conservatory and abroad at The Central Academy of Drama in Beijing, Daniels is now based in New York as a dance artist, choreographer and photographer. He has collaborated with DanceItalia! and was featured in VoyageATL magazine. @Ayo.Justn
Chrystion Dudley (he/they)
Chrystion Dudley was born and raised in Indianapolis. He has been dancing for 16 years in ballet, hip-hop, jazz, contemporary, tap and modern. He's a recent graduate from the University of the Arts in Philadelphia where he obtained his BFA in dance performance. @Chrysti0n
Brandon Gray (he/him)
Maryland-bred Brandon Gray began dancing at 13 years old at Duke Ellington School of the Arts. He received a scholarship to The Ailey School and soon after was a soloist at Complexions Contemporary Ballet from 2017-2022 where he toured internationally and domestically. Gray is currently in the documentary Black as U R, which is executively produced by Billy Porter, and is featured in Mark Mann's photography book Movement at the Still Point. @yaaaaasbrandon
Raja Feather Kelly (he/him)
Raja Feather Kelly is a choreographer and director and artistic director of the dance, theater and media company the feath3r theory. Kelly's recent works include White Girl in Danger and Scenes for an Ending. He choreographed the Tony Award-winning Broadway musical A Strange Loop. His other accolades include a Princeton Arts Fellowship, three Princess Grace Awards and an Obie Award.
Nelson "Nellie" Enrique Mejia Jr. (he/him)
Originally from northern Virginia, Mejia is a freelance artist based in Brooklyn. He received his BFA in dance and choreography from Virginia Commonwealth University. Mejia has performed with Gaspard & Dancers, and currently dances for Pony Box Dance Theatre and Brian Brooks Moving Company. @nelsonnmejiaa
The Sunken Cathedral
Benjamin Freemantle (he/him)
Benjamin Freemantle started his training in his hometown of Vancouver, Canada, at the Caulfield School of Dance. He trained at the San Francisco Ballet School, later joining the school's trainee program. He joined the San Francisco Ballet and became a soloist in 2018, being named "25 to Watch" by Dance Magazine. In 2019, he was named principal dancer. Freemantle recently stepped away from ballet to pursue an independent artistic career. @benjamin.freemantle
Gabrielle Hamilton (she/her)
Harlem-grown Gabrielle Hamilton began her training at the Uptown Dance Academy. She later earned a BFA from Point Park University. In 2019, her work as the principal dancer in the Tony Award-winning Broadway revival of Oklahoma! earned her a Chita Rivera Award and Bessie Award for Outstanding Performer. Hamilton was featured on Dance Magazine's January 2020 cover and on its "25 to Watch" list. @gabriellethe.great
Jakob Karr (he/him)
Jacob Karr has performed in a number of productions including Cats on Broadway, several Cirque Du Soleil productions, Kiss Me Kate at Barrington Stage, the Radio City New York Spectacular and Rock the Ballet. Karr was season six runner-up on Fox's So You Think You Can Dance and has appeared on television for the Academy Awards, America's Got Talent, Glee and Westworld. @jakobakarr
Paul McGill (he/they)
NAACP Award-winning choreographer and director Paul McGill recently returned from a stint as associate dance director at Festival PAAX in Mexico. His credits include Broadway's Hedwig and the Angry Inch, Off-Broadway's Between the Lines, Which Way to the Stage and Lucille Lortel Award-nominated The Legend of Georgia McBride. His work as a director includes short film Catharissy and numerous music videos. @paul_mcgill_
Lorenzo Pagano (he/him)
Lorenzo Pagano is an award-winning contemporary dancer. He joined the Martha Graham Dance Company in 2012 and has originated roles for works by Sidi Larbi Cherkaoui, Nacho Duato, Andonis Foniadakis, Pontus Lidberg and Hofesh Shechter. Pagano has been a guest artist for the Lar Lubovitch Dance Company, La Compañia Nacional de Danza de Costa Rica and has collaborated with choreographer Sonya Tayeh and musician Moses Sumney. Pagano was honored with the Italian International Dance Award and the Premio Nazionale La Sfera d'Oro. @pagano_lorenzo791
Danny Zelibor (he/him)
New York City-based pianist Danny Zelibor is known for his sensitive and colorful playing, making him a sought-after collaborator on the international music scene, especially in the world of newly composed music.@dzelibor
Whirlaway (excerpt)
Zoey Anderson (she/her)
Zoey Anderson is from Utah, where she trained at Center Stage Performing Arts Studio. In 2015, she graduated cum laude from Marymount Manhattan College with a BFA in ballet. The same year, she joined Parsons Dance. Anderson was nominated for the 2018 Outstanding Performer Bessie Award and received the 2019 Clive Barnes Dance Artist Award. Her credits include the Broadway premiere gala of On the Town and Dancing with the Stars webisodes. @zoeya35
Nick Fearon (he/him)
Nick Fearon began dancing in San Antonio, TX, his hometown, and went on to earn his BFA in dance from Point Park University, where he danced with Pittsburgh's Texture Contemporary Ballet. Following a 2015 apprenticeship with Parsons Dance, Fearon danced with Ballet Hispánico for three years. This is his second season with Parsons Dance. @nickfearon
Megan Garcia (she/her)
Megan Garcia trained at Progressions Performing Arts in Spring, TX, before graduating summa cum laude from the University of Arizona in 2019 with a BFA in dance. She was a Radio City Rockette in the 2019 Christmas Spectacular. This is her third season with Parsons Dance. @megangarcia11
David Parsons (he/him)
David Parsons has created more than 75 works for his namesake Parsons Dance. He has received commissions from American Ballet Theatre, New York City Ballet, Alvin Ailey American Dance Theater, the American Dance Festival, Jacob's Pillow, the Spoleto Festival and Het Muziektheater in Amsterdam, among many others. In 2018, he received the Capezio Award, one of the most prestigious awards in dance. Parsons has been a guest artist with New York City Ballet and his artistic prowess led him to undertake such diverse work as choreographing Aida at Arena di Verona, producing and co-choreographing María de Buenos Aires at the Skirball Center and choreographing and directing the dance elements for Times Square 2000, the 24-hour festivities in Times Square celebrating the turn of the millennium.
Téa Pérez (she/her)
Téa Pérez is from Dallas where she trained and graduated from Booker T. Washington High School for the Performing and Visual Arts. In 2021, she graduated from the Ailey/Fordham Bachelor of Fine Arts Program in Dance. An understudy with Parsons Dance for one season, she was promoted to company dancer in June 2022. @tea_perez
Luke Romanzi (he/him)
Brooklyn native Luke Romanzi graduated from the LaGuardia High School of Music & Art and Performing Arts. As a dancer in Rock the Ballet, a contemporary ballet company, he was featured on Fox's So You Think You Can Dance and HBO's Random Acts of Flyness. He was accepted into the Young Choreographers Festival, held at NYC's Symphony Space. Instagram: @lukeromanzi
All InClusive
Courtney Ashley
Courtney Ashley is a professional hip-hop and street jazz dancer. Her dance experience was birthed in New York's Underground Dance Scene, where she performed in local talent shows and showcases. With a desire to elevate her dance career, Ashley joined the Masterz at Work Dance Family in 2014 where she's performed at Jacob's Pillow, Lincoln Center, the Guggenheim Museum and in many concept videos and showcases.
Courtney Washington Balenciaga
Courtney Washington Balenciaga is from the Bedford-Stuyvesant neighborhood of Brooklyn, NY. Washington Balenciaga attended the Jackie Robinson after-school program where she trained in African dance. Washington Balenciaga is known as a community organizer and founded her own dance company, Masterz at Work Dance Family in addition to founding a kiki ballroom house known as The House of Juicy Couture. As a legend in the community, she continues her work in organizing and innovating ballroom.
Jai'Quin Coleman
Jai'Quin Coleman was born in Brooklyn and raised in the streets of Harlem, where she learned to dance through local community events and the Something Untouchable Dance Company. Coleman competed in a number of conventions through the company. Her skill has taken her from New York Fashion Week to Durban, South Africa's Playhouse Theatre. Coleman is a dance teacher in her own right and works with young dancers when not dancing or choreographing.
DeAndre Cousley
Queens native DeAndre Cousley began training at 13, following his acceptance to LaGuardia High School of Music & Art and Performing Arts. There, he was recognized by the National YoungArts Foundation. He has worked under the direction of artists like Sidra Bell, Earl Mosley, Billy Porter and Desmond Richardson. Cousley attended Steps on Broadway's Professional Training Program, where he honed his technique in classical ballet, jazz, tap, contemporary and modern techniques such as Graham, Limon and Horton.
Luis "Chacha" Estevez
Luis "Chacha" Estevez is from Brooklyn, NY. He has worked with artists such as Lil Nas X, Travis Scott, Kehlani and Wisin y Yandel. He has also been featured in collaborations with companies such as Adidas and Gap.
Armani Danielle Moore
Armani Danielle Moore was born and raised in Brooklyn, NY, where she grew up stepping and dancing in the underground scene. Since 2018, Moore has been training professionally in the styles of hip-hop, street jazz and vogue. Moore has performed on stages such as the Guggenheim, Lincoln Center and Rockefeller Creative Arts Center.
Jay Parel
Jay Parel studied hip-hop, jazz and modern dance at Brooklyn School for Music & Theatre. He has trained with companies such as NonaLee Dance Theatre, Mad About Dance (MAD) and Urban Dance Alliance. Parel has danced for multiple tours, music videos, television, film and onstage.
Deshaun "DayDay" Peals
Deshaun "DayDay" Peals has practiced vogue, hip-hop and street jazz dance for 10 years while competing in New York's ballroom scene. Peals recently competed in the HBO Max television show Legendary with The House of Juicy Couture where his house won first place. He has hosted vogue workshops in New York, Australia and France, as well as composing movement work for fashion shows and photoshoots with Urban Outfitters and Telfar.
Jaylen Wallace
Hailing from Brooklyn, Jaylen Wallace has performed at venues such as Barclays Center, Jacob's Pillow, World of Dance and Lincoln Center. Wallace recently received a scholarship from Broadway Dance Center.
Hudson Valley Dance Festival

Saturday, October 7
dates subject to change
Back to Top