Ayodele Casel Explores Tap and Culture at Inside Dance Series

From the first quick flicks of her feet, groundbreaking tap dancer Ayodele Casel showed why The New York Times named her one of the "Biggest Breakout Stars of 2019."
Hailed as one who exudes energy and exuberance while radiating joy, Casel treated Dancers Responding to AIDS supporters and other dance enthusiasts to an insider look at her signature brand of explosive and innovative tap dance on January 21, 2020, at NYC's Open Jar Studios.
Casel took the audience on a journey through an engaging and diverse program, including solo piece Back Montuno, trio Caravan, and group numbers Scalular and Africa. The dancers alternated between planned choreography and improvised rhythms. The pieces explored Casel's unique intersection of tap dance and her Puerto Rican culture.
She was joined by impressive dancers Naomi Funaki, Luke Hickey, Andre Imanishi and Jared Sprague. The group used eye-catching formations, dynamic movement and an expansive and genre-bending tap dance vocabulary across their performances.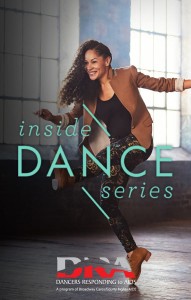 During her solo, Casel shared how her tap dancing education started with a love for Ginger Rogers. However, as she learned more about the craft, she discovered tap's roots in black culture as well as the magic of improvised movement. This cemented her mission to educate people about the rich, diverse history of tap.
Following the performances, Casel, her dancers and creative director Torya Beard participated in a Q&A with Dancers Responding to AIDS Founding Director Denise Roberts Hurlin. The group discussed their individual backgrounds in dance, the importance of dance as a form of expression and communication and Casel's recent acclaimed run at NYC's The Joyce Theater.
The performance was part of the Inside Dance Series, which offers supporters an exclusive look at dance with intimate performances featuring acclaimed dance companies and choreographers. Each evening includes a Q&A with the artists and a cocktail reception.
Photos by Scott Shaw
Back to Top