21st Annual Fire Island Dance Festival Breaks Fundraising Record with $544,555
Fire Island Dance Festival returned for its 21st edition July 17-19, 2015, with some of the most talked-about world-class dance companies, raising a record-breaking $544,555.
The festival, performed outdoors on the picture-perfect shores of the Great South Bay in Fire Island Pines, included the world premieres of five works. Since the festival began in 1995, 51 new works have had their premieres at Fire Island Dance Festival.
Featuring an exquisite lineup of dancers, choreographers and generous supporters, the festival set a fundraising record for the fifth year in a row, besting last year's total of $533,860. In its 21 editions, Fire Island Dance Festival has raised more than $4.3 million to help ensure that those in need have access to lifesaving medications, counseling, healthy meals and emergency financial assistance.
"We're thrilled to again be here on Fire Island for the 21st year celebrating dance and making a difference with and for our community,"said Denise Roberts Hurlin, founding director of Dancers Responding to AIDS. "We feel so rewarded to witness all the talent and the commitment of our crew, dancers, choreographers and volunteers who come together every year to make this weekend happen for those not as fortunate as we are."
The festival's five premieres were choreographed by Al Blackstone, a New York-based Capezio A.C.E. Award winner; Charlie Williams, a Broadway performer and rising choreographer whose work has been seen on the Academy Awards, Tony Awards and NBC's Sound of Music Live! and Peter Pan Live!; Manuel Vignoulle, a French choreographer who has danced with Ballet du Grand Théâtre de Genève and Cedar Lake Contemporary Ballet; Joshua Beamish, who just finished working with former New York City Ballet principal Wendy Whelan on her well-received Restless Creature; and Pontus Lidberg, a renowned Swedish choreographer, actor, dancer and filmmaker.
The 21st edition of Fire Island Dance Festival featured 43 professional dancers entertaining three sold-out crowds with Broadway, ballet, contemporary and modern dance.
Ailey II stunned the audience with Shaking Duet, an energetic piece choreographed by Vignoulle that told the story of people trying to break through the heavy weight of conventional behavior and morals.
In Williams' dream-like Rise, 2010 Tony Award nominee Karine Plantadit, surrounded by six bare-chested male dancers, followed one woman's journey from this world to the next set to the celebratory sounds of Delta Rae's "Dance in the Graveyards."


In a captivating solo, Clifford Williams created an onstage fantasy to the sounds of Bach's "Chromatic Fantasy and Fugue." Sending his lithe body through elegant contemporary ballet movements, Williams lost himself in a world of love created by legendary choreographer Dwight Rhoden.
Pontus Lidberg Dance presented the world premiere of another number created for the festival. Backed by a percussive soundtrack, Lidberg and Boston Ballet Principal Paulo Arrais created an intimate, kinetic conversation between their sinewy bodies.
Effortlessly gliding across the stage, the elegant men of Ballet Hispanico donned bowler hats and colorful jeans for the intricate and explosive Sombrerísimo, a piece that contrasted the men dancing for the audience and for themselves. The creative number paid homage to the surrealist world of Belgian painter René Magritte, famous for his paintings of men in bowler hats.
Beamish premiered Stay, a stunning, sensual dance that followed a relationship suspended in space and time. The emotional duet was performed by Dimitri Kleioris, who danced with the Royal New Zealand Ballet and is part of the cast of the upcoming Starz miniseries Flesh and Bone, and Stephanie Williams, a member of the corps de ballet at American Ballet Theatre.
10 Hairy Legs showcased Bud, an engaging male duet with intricate partnering expertly handled by Alex Biegelson and Nicholas Sciscione and set to "Oh What a World," by Rufus Wainwright and Maurice Joseph Ravel. Bud was originally performed by Stephen Petronio Company.
Vignoulle, one of the most sought-after dancer/choreographers today, premiered a contemporary male duet with Isaies Santamaria. Shifting Shadowlayered a texture of static music with an athletic dance that illustrated a man scared by his own reflection and shadow.
Mary Carmen Catoya and Kleber Rebello, former and current principals with Miami City Ballet respectively, captivated the audience with a classical pas de deux from La Esmeralda, the story of a beautiful gypsy girl and her love for a man who is not her husband.
Broadway's Blackstone closed the show with the premiere of his comedic Not for Me, a piece that follows a young man looking for love in all the wrong places. Set to the music of crooner Bobby Darin, his adventure takes him from Zen yoga to a sexy steam room before he ultimately settles for the love of one particularly cheerful dog.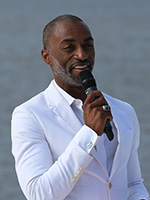 This year's sold-out festival was hosted by Complexions Contemporary Ballet co-founder Desmond Richardson, a former principal dancer with Alvin Ailey American Dance Theater and a Tony Award nominee for Fosse.
Intermezzo Dance Company kicked off the festival on Friday, July 17, with an enchanting tale of secret romance and desire, choreographed by Duncan Lyle, a member of American Ballet Theatre's corps de ballet. This exclusive performance, sponsored by DIRECTV, was part of the opening event for the festival's Leadership Supporters.
Leadership Supporters
This Year's Program
Back to Top