20th Anniversary Fire Island Dance Festival Raises Staggering $533,860


Fire Island Dance Festival celebrated its 20th anniversary edition July 18-20, 2014, with artistry, gravity-defying movement, romance and remembrance, raising a record-shattering $533,860 for Dancers Responding to AIDS.
The festival, performed outdoors on the shores of the Great South Bay in Fire Island Pines, included the world premieres of works choreographed by Joshua Bergasse, Marcelo Gomes, Nick Kenkel, Patrick Makuakāne and Troy Schumacher. During the festival's 20 years, 48 new works have had their world premieres at Fire Island Dance Festival.
With the help of a stellar lineup of dancers, choreographers and generous supporters, this year's total eclipsed last year's record-setting $393,647. In its 20 editions, Fire Island Dance Festival has raised more than $3.8 million to help ensure that those who need it most can receive lifesaving medications and health care, nutritious meals, counseling and emergency financial assistance.
This year's festival featured 48 professional dancers entertaining sold-out crowds with ballet, modern, Broadway and even traditional Hawaiian dance.
"At moments like this, we must take time to remember all the talent, creativity and friendships we've lost, while celebrating the progress we've made and the opportunities we have to make a difference for those who need our help the most," said Denise Roberts Hurlin, founding director of Dancers Responding to AIDS. "We could not have achieved as much as we have without the unwavering support of the Fire Island Pines community, our generous donors and sponsors, the immensely talented dancers and choreographers and our committed core of tireless volunteers."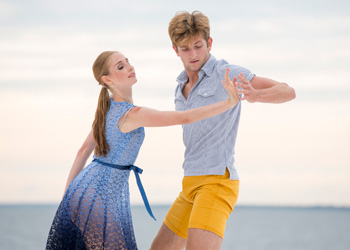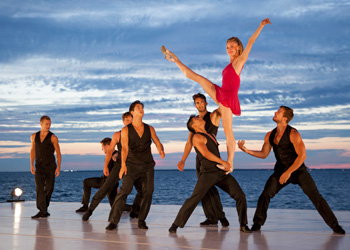 Photos by Whitney Browne
The 20th anniversary edition of Fire Island Dance Festival included 10 memorable performances
In the romantic pas de deux from Romeo and Juliet, Marcelo Gomes, renowned principal dancer for American Ballet Theatre, charmed Luciana Paris, a member of the corps de ballet, from her second-story balcony. The love-struck couple melted into each other, avoiding for as long as they could the sweet sorrow of parting.
Sara Mearns, principal dancer for New York City Ballet, traded her pointe shoes for sassy heels, lighting up the stage in a slinky, sexy Broadway showstopper. Mearns was supported by eight spectacular male dancers, who lifted, tossed and twirled the bright-eyed ingénue. "Stairway to Paradise," set to a jazzy Gershwin song, was created by Emmy Award-winning choreographer Joshua Bergasse, who will make his Broadway choreographic debut with this fall's revival of On the Town.
Ailey II concluded each show with its soul-stirring "Wade in the Water" from Revelations. With the rhythmically energizing traditional spiritual as the musical background, a devotional leader brings a young couple to the water's edge, baptizing them in a rousing number that frees body and spirit.
Nick Kenkel, a gifted Broadway gypsy-turned-choreographer and director, premiered "Good in Goodbye," an Afropop-infused group number that affectionately paid tribute to a friend lost too soon and celebrated the gifts left behind.
Jon Eden from MOMIX mesmerized the standing-room-only audience with the stunning "Man Fan." Eden masterfully manipulated a 22-foot-tall fan of silk to create dramatic, rippling effects in a magical duet with the wind.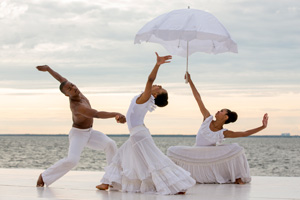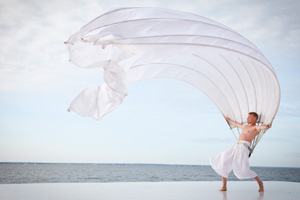 Photos by Whitney Browne
Nā Lei Hulu I Ka Wēkiu brought the flavor of the Hawaiian islands to Fire Island in a new hypnotizing all-male hula dance punctuated by the music of puili bamboo dance sticks and an ipu, a drum-like instrument made from gourds. Innovative hula choreographer Patrick Makuakāne leads the San Francisco-based company.
Jon Bond, a member of Cedar Lake Contemporary Ballet, performed his solo piece "My Move," displaying an iridescent personality outshined only by his ability to effortlessly spring across the stage with a ferocity that's both fluid and controlled.
Kristine Bendul, David Elder and Kurt Froman recreated "Secret Garden: Adam, Eve & Steve," an elegant, passionate pas de trois originally choreographed and performed in 1997 for Broadway Bares by the late Arte Phillips.
BalletCollective premiered an excerpt from "Dear and Blackbirds," a new work that explores the complicated inner workings of relationships as two people struggle to eventually find their common path. The piece was choreographed by Troy Schumacher, a rising talent and member of the corps de ballet for New York City Ballet.
In addition to performing, Gomes also choreographed the premiere of "Igual," which means "equal" in Gomes' native Portuguese. Four members of Complexions Contemporary Ballet performed the intricate choreography that showcased their masterful technique and stamina. The number included an original score by Ian Ng, the first time a composition for a ballet has premiered at Fire Island Dance Festival.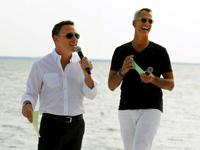 Critically acclaimed choreographers Jerry Mitchell and Larry Keigwin shared hosting duties. Both have had distinguished careers as performers and choreographers. Mitchell is the two-time Tony winning director and choreographer of the 2013 Tony-winning Best Musical, Kinky Boots. Keigwin is artistic director of one of the country's most electrifying dance companies, KEIGWIN + COMPANY, and this year made his Broadway choreographic debut with the hit musical If/Then.
Mark Stuart Dance Theatre performed excerpts of its new dance musical, STANDARD TIME, on July 18, as part of an exclusive festival kick-off event for Leadership Supporters at the Albert Lepage Pavilion at Whyte Hall.
Leadership Supporters
This Year's Program

Back to Top